CA Soccer School Coaches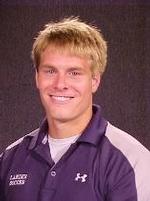 Chris Ayer became the first full-time women's soccer coach in the history of the program, which was started in 1998, when he was hired in May 2006.
The two-time Peach Belt Conference Coach of the Year was first honored in just his second season when he led the 2007 Lady Bearcats to their best record in school history at 13-5. Ayer was again honored in 2012 when Lander finished second in the Peach Belt Conference with a 10-4-3 overall and 8-2-1 in the PBC.
Ayer has coached an All-American in Jamie Shaw and five NSCAA All-Southeast Region players.
Ayer came to Lander from Coker College, where he was the head women's soccer coach from 2002-06 and doubled as the head men's soccer coach since 2003.
Ayer holds a USSF "A" license and a NSCAA Premier Diploma. He has served as a staff coach for the Region III ODP for the past four years and has been a state team coach for South Carolina for the past five years.
Ayer, a native of Columbia, S.C., earned his bachelor's degree in biology from David Lipscomb (Tenn.) University and played for the Bison's soccer team.
Following his graduation from Lipscomb, he spent two years as an assistant coach for his alma mater's men's and women's soccer teams, while earning his Master's degree in instructional leadership.
Chris is married to the former Kristen Plummer of Nashville, Tenn. and they have two children. Zachary Thomas, who was born on Sept. 3, 2008, and Zoey Madeline who was born June 22, 2013.